How Buran's art frames are made
Hand-made-frames require an appropriate working schedule that follows a precise order and must be carried out in strict respect of the best technique, yield of our tradition. All phases are extremely important and on the ultimate care we bestow depends quality and beauty of the finished product.
---
1) Shaping
The unhewn frame is moulded during this preparatory phase. Starting from the raw "plank" and using specific machinery we will give the frame its final shape.
2) Preparation for carving
Once the silhouette is ready we proceed to the frame carving. Essential, at this point, is coating with "gesso of Bologna" that will be sanded and then carved. Our creativity and skill are then fundamental.
3) Gilding
At this stage the frame is specifically treated to receive pure god leaves. They will be carefully laid down following the old traditional technique.
4) Painting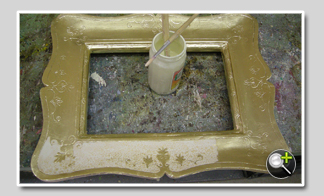 Accuracy in painting is one of the main feature of Buran's frames. We give extreme importance to color and prepare special color combinations embedded in small details to be inserted on the frame which has been previously gilded or silver- plated. In addition, upon customer's request, the frame can be painted using colors in shade with the painting to be hosted. For this service we are able to offer a wide range of colors and, if necessary, we can reproduce any variant of pigment.
5) Antiquing
This is one of the most delicate techniques of our art. Only experience and abiding research on the field have allowed us to acquire the know-how for antiquing our frames. One of the methods we use is "varnishing" that gives to our frames that aged and withered look that make quite a statement when displayed. After laying of gold leaves the color of the surface looks too bright and varnishing is the right method for antiquing the hue. We get the best result using a special tempera invented by our founder Luigi Buran more than seventy years ago. We are still producing this precious compo and we have been jealously keeping the formula for three generations. It is this element that makes a Buran's frame a work of art.
6) Assembling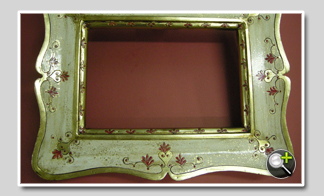 It is the final step of the process. Now we shape the glass following the frame dimensions and fix the painting or the print inside it. Then we finish off wading the backboard with a decorative paper. In the end the Buran Art Frame is ready to furnish your place with a precious touch of style.